On our trip to Prince Edward Island we went to the site of the home L.M. Montgomery grew up in. The home is no longer standing, but you can see the foundation there. The part down in the ground was the old cellar.
Here's a picture of what the house looked like:
Maud came to this home to live when she was very young- after her mother died of tuberculosis. She lived here with her maternal grandparents, Alexander and Lucy Macneill. (Maud's first name is Lucy, named after her grandmother.)
"Our beloved old place. Have not old homestead souls that cling to them until they crumble to dust? -L.M. Montgomery
It was SUCH a beautiful area. There were some really pretty flowers in bloom. Look at the cute little forget-me-nots!
There is a wooded area near by that is the inspiration for the "Haunted Wood" in Anne of Green Gables. It was actually really pretty during the day but I can imagine how it would be creepy at twilight or in the night.
Truly terrifying! Ha ha!
I am grateful that my childhood was spent in a spot where there were many trees...When I have lived with a tree for many years it seems to me like a beloved human companion. -L.M. Montgomery

Near this area is a little store/mini-museum run by the MacNeill family which are relatives of Maud's. We learned a little bit of history there and I very helpfully pointed out that someone spelled Diana Barry wrong on a display case which had dolls representing Anne and Diana. It was spelled "Berry." Ha ha! I'm so annoyingly helpful like that. ( :
I tried really hard to avoid "touristy" stuff on this trip when I could, but I did buy two things at that store. Books of course!
A biography of Maud by Mary Henley Rubio titled Lucy Maud Montgomery A Gift of Wings. I'll tell you more about this book in another post.
And this cute little journal that has quotes from Anne of Green Gables sprinkled throughout the pages. The quotes make me chuckle as I write along in my journal. ( :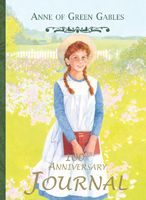 Also near this area is the cemetery where Maud is buried along with dozens of other relatives. Here is Maud's gravesite.
Notice something interesting below? Her married name IS actually Macdonald, but her pen name was Montgomery so that's what most of us know her by.
Here's a quick shot of the rest of the cemetery with the trees all around it.
I still have a few more posts to go to share everything about our trip! I'll get to it as I can. At the moment a little "kitty" boy wants me to play a game with him. ( :